Frequently Asked Questions
Find the answers to our most commonly asked questions. Feel free to contact us anytime if we can further assist.
What insurance networks do you accept?
Our clinicians are currently in network with many insurance providers. Visit our
Verify Insurance
page to learn more.
What should I expect from my scheduling call?
Our Care Coordinators will give you a call within a few business days after filling out our

Appointment Request

form. In that call, SOL will help to understand your needs, match you with the right clinician, gather and verify your insurance information, and provide you with information about directions, helpful forms to fill out in advance, and financial responsibilities.
What is the appointment cancellation policy?
You must call and cancel your appointment 48 hours (2 business days) before the appointment time (weekend days and holiday days do not count towards the minimum 2 business day requirement). If you do not cancel or do not show up, you will be charged $100 for individual appointments and $50 for group appointments.
How much will my appointment cost?
This will vary based on your payment method and insurance coverage. If you are using your insurance benefits, you can call the customer service number on the back of your card to confirm your specific benefits. You can ask, "What are my mental health benefits?" to find out how much you would pay for a therapy or medication management appointment. At Sol Mental Health, we also will verify your insurance by filling out the inquiry on your state's Verify Insurance page.
Why do you need my credit card information?
We collect your credit card information prior to your first appointment to ensure we can collect all no-show fees, co-payments, co-insurance, and deductible fees. This also improves your experience by removing the task of paying for your appointment at the time of your visit. We will take care of billing after the session so your clinician can focus on providing care, rather than administrative tasks. You will not be charged until after you see your clinician for the first time.
What is the difference between co-insurance and co-pay?
A co-payment, or co-pay, is a flat fee for a healthcare service or a prescription drug that is predetermined by a member's health insurance plan. Co-pays are one way that insurers share the cost of medical services with policyholders, with the fees paid depending on the plan, medical service, or drug. These fees are a fraction of the actual cost of the service provided. Co-insurance is a similar cost-share your insurance plan might utilize; however instead of being a flat fee, you are responsible for a pre-set percentage of the total cost of the service.
Will I be paired with my requested clinician?
We provide the best suited clinician based on specialty, availability, location, treatment approach, and insurance coverage. Our team of licensed mental healthcare professionals spans a wide range of clinical specialties and areas of interest. If you do have concerns about fit after your first appointment, please discuss with your clinician, who will discuss potential next best steps with you.
How quickly will I be able to see a clinician?
Our goal is to get you scheduled as quickly as possible. Once we gather your preferences and information, we will immediately reach out to you (typically within 24-48 hours). If you submit a request during a weekend, we will connect with you on the next business day. After the initial intake call, we aim to have your first appointment scheduled within 2-5 business days.
What should I expect at my first appointment?
During your first appointment with a licensed mental health clinician, you will discuss your history, current symptoms, and goals in care. This initial appointment allows the two of you to get to know each other, and collaboratively develop a plan of treatment to help you best achieve your goals. It's important to realize that for some patients, the next step may include a 2nd continuation intake appointment, for the clinician to gather additional information before creating a treatment plan. Additionally, for some patients with needs beyond the scope of our capabilities at Sol Mental Health, the clinician may recommend a referral to a more specialized treatment provider.
Will I get medication prescribed at the first appointment?
This is a decision that will be made in partnership with your treating clinician and is up to their clinical judgement. However, we cannot guarantee that your first appointment will end with a medication prescription.
Does Sol Mental Health prescribe controlled substances (such as stimulants or benzodiazepines)?
Similar to the question above, this is a decision that will be made in partnership with your treating clinician and is up to their clinical judgement. It is important to note that if your clinician decides that a controlled substance (such as a stimulant to treat ADHD or a benzodiazepine to treat anxiety) is appropriate and clinically indicated, you must have had an in-person appointment to proceed. Patients who have only been seen virtually are not eligible for treatment with controlled substances.
Is virtual (telehealth) care secure?
We always make sure that any appointment that takes place between a patient and one of our clinicians is compliant with HIPAA regulations and ensures patient privacy. The software we use to facilitate this teleconferencing encrypts any video and audio. Of course, it is also important for you to be mindful of the setting in which you take a virtual appointment; choosing a comfortable, quiet, and private space is important.
Is care delivered by Sol Mental Health HIPAA compliant and secure?
Our HIPAA-compliant, encrypted software keeps your personal data secure. We follow the highest national standards for security and privacy for all patients and clinicians. Your personal data, medical information, and private communications are all hosted on HIPAA-compliant, SSL-encrypted servers.
What do psychiatric medications treat?
Medications are one tool mental health clinicians can use, in addition to psychotherapy, to help treat their patients' symptoms. The decision to use medication, psychotherapy, or both in combination is a collaborative one made by the clinician with close input from the patient. Often, the most successful treatments combine the two. In some cases, medication is the core treatment and therapy the secondary intervention. At Sol Mental Health, we have a team-based approach to care, so you can get both in one place.
What is the difference between a psychiatrist and a therapist?
Psychiatrists are medical doctors trained to treat general medical conditions and the broad spectrum of psychiatric illnesses. Psychiatrists may use a combination of medication management and psychotherapy to treat patients. Therapists are clinicians with either master's or Ph.D. level training who are specialty trained (through a combination of classroom and clinically-based work) to deliver psychotherapy as a treatment for psychiatric symptoms/conditions.
What does Sol Mental Health treat?
We treat the following conditions:
• Anxiety disorders
• Depressive disorders
• Bipolar-spectrum disorders
• Trauma-related disorders
Do you have any other questions for us before your appointment?
Read what the experts on our team have to say about mental health topics: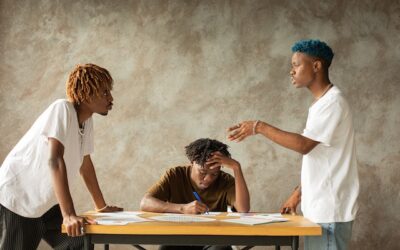 3 Tips to Mend Your Familial Relationships Strategies for Healing Fragile Family Bonds National Siblings Day occurred on April 10th. It's great to celebrate our bonds with family members, but at times, these holidays can be a reminder of some people's...